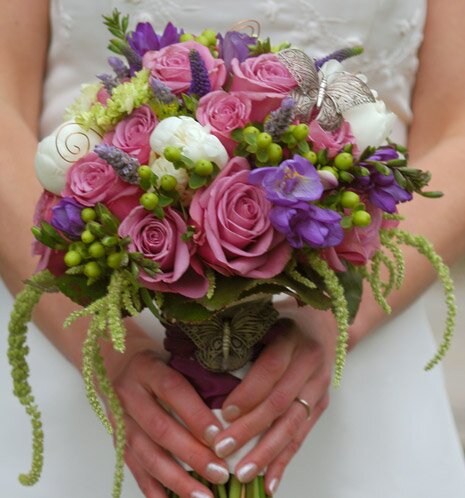 Testimonials:
Hey! We're on our honeymoon in Thailand, so this will be short, but I wanted to let you know that I LOVED THE FLOWERS!!!!!!!!!! They were incredible! I was completely obsessed with my bouquet, it broke my heart to let go of it! I'll send a proper thank-you when I get home! THANK YOU SO MUCH!!!!!!!!
I really can't thank you enough for how fabulous the flowers turned out. We have gotten a ton of compliments on how beautiful the flowers were (especially the walkway!!) and I keep promoting your name & Flora :-) It was already a special day in and of itself, but the flowers truly took things to a magical level, so THANK YOU!!
Thank you for making the best day of my life even more special with all your finishing touches.
You absolutely BLEW ME AWAY with our flowers! I cannot even begin to tell you how gorgeous they were. I had never seen anything so beautiful and I have seen a ton of flowers in the last year on all my wedding blogs I followed. I am so thankful... Just wanted to let you know!
First of all, Lissa, the flowers you did for my wedding were TO DIE FOR!!! seriously, i loved loved loved them! My mom kept my bouquet in water and when we got back from the honeymoon it was still beautiful. Thank you so much.
Thank you. Married life has been great! We all loved the flowers; you did a great job.
Even though handwritten thank yous are way more meaningful (and you will still be getting one in the mail) I couldn't wait to send you a thank you email!
Dear Melissa, I just wanted to let you know how much I thoroughly enjoyed working with you. I know that I was a fairly picky/particular bride and you worked really hard to ensure that I got what I wanted. I really appreciate that. Although, many of my favorite flowers were out of season for our August wedding you made sure to find the closest possible substitution that I would still LOVE. The flowers were absolutely amazing. I couldn't imagine anything more beautiful and perfect for our wedding. Your professionalism and creativity are unmatched to this day compared to every other wedding or event I have attended
Thanks for all of your beautiful work with wedding. You did such a wonderful job. We've had tons of compliments.
Dear Melissa Thomas: On behalf of homebound, elderly people that Meals On Wheels serves in Asheville and Buncombe County, I'd like to thank you for thoughtfulness in making plans to donate flowers to our clients. This is a creative way to spread the joy of your events with others across our community! My contact information is included below. Please give me or a member of our staff a call when you plan to make a donation. Thank you for remembering our seniors! -Terri
Working with flora from the beginning until my big day was a remarkable experience.
Melissa- Thank you. We recieved several different arrangements as we have opened (all different-of course), but I especially appreciated yours. Your work speaks for itself and I look forward to recommending you.